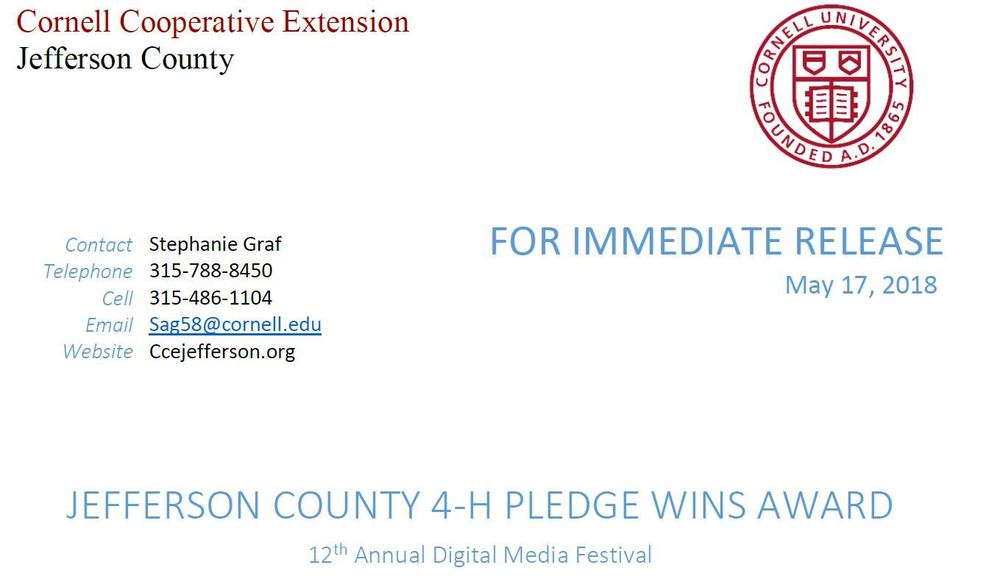 Congratulations to our After School 4-H Program!
CCS
Saturday, June 09, 2018
JEFFERSON COUNTY 4-H PLEDGE WINS AWARD
12th Annual Digital Media Festival
Watertown, New York – On May 16, 2018 at the 12th Annual Digital Media Festival in Rochester, New York at The Strong: National Museum of Play the Jefferson County 4-H Pledge video won First Place in the 4th – 6th grade category in the video category. Ben Plante, 4-H After School Coordinator led the effort with students from the 4-H After School Program at Copenhagen Central School District. This annual event celebrates the work of students in the digital media field. To view the video go to http://ccejefferson.org/4-h-yo... .


If you would like more information about Jefferson County 4-H, please contact Stephanie Graf at 315-788-8450 or sag58@cornell.edu.