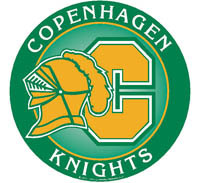 Sports Updates
Brenda Shelmidine
Sunday, February 18, 2018
The Winter sports season is winding down. Below is an update on the postseason.
○ Cheerleaders won the Section III Championship and will compete in the State
Tournament Saturday, March 3rd at OCC.
○ Dempsey Carroll placed 2nd at the Section III Wrestling Tournament and received an at-large bid to the State Tournament in Albany February 23nd and 24th.
○ The Girls Basketball team won their opening Section III Tournament game and
will travel to Waterville on Tuesday, February 20th at 7:00 p.m. to play a quarter-final game.
○ The Boys Basketball team lost their opening round Sectional game to Hamilton
which ended their season.
Congratulations and best of luck to our athletes! Go Knights!!