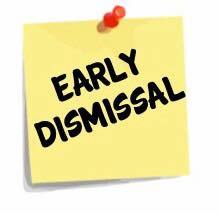 Early Dismissal - February 16, 2018 @ 10:50 a.m.
Brenda Shelmidine
Tuesday, January 30, 2018
Friday, February 16, 2018 will be a half day of school with dismissal at 10:50 a.m.
Students in grades K-12 will be dismissed at 10:50 a.m. (with the exception of students who attend afternoon BOCES). Lunches will not be served. There will be no after school program. Staff will be participating in staff development in the afternoon. School will resume on Monday, February 26, 2018 after winter break. Thank you!