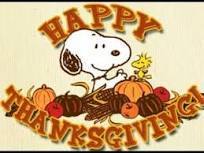 Charlie Brown Thanksgiving is BACK!!
Copenhagen Central School
Wednesday, November 14, 2018
What is this you ask?? The 4H staff will be offering child care during parent teacher conferences. Just bring your child to the cafeteria for snacks and fun while you meet with teachers.
When: Monday, November 19th, 12:00 pm - 7:00 pm, Tuesday, November 20th 12:00 p.m. - 3:00 p.m.