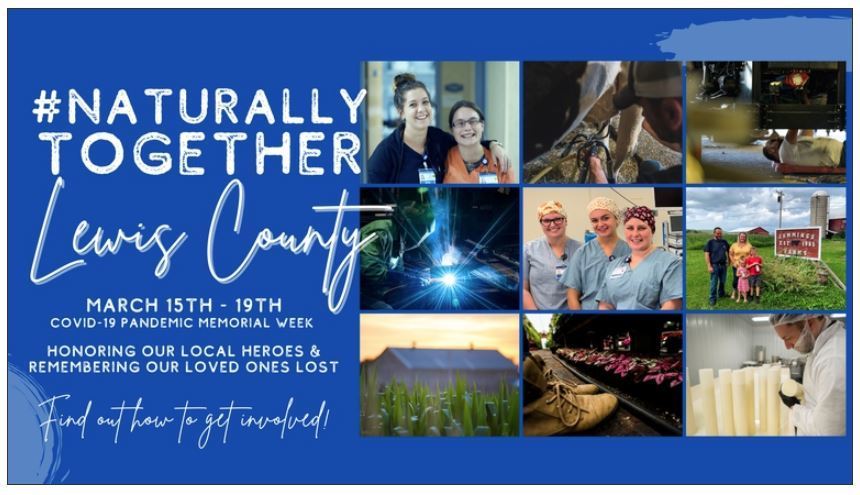 COVID-19 PANDEMIC MEMORIAL WEEK
District Office
Wednesday, March 10, 2021
COVID-19 PANDEMIC MEMORIAL WEEK
When: MARCH 15th - 20th
Honoring our local heroes and remembering our loved ones lost
To learn more about the events and activities of COVID-19 Pandemic Memorial Week, visit:
https://www.lewiscounty.org/Covid-19PandemicMemorialWeek
https://www.facebook.com/events/360063508778426

Lewis County is honoring our local heroes and remembering our loved ones lost as we approach the one year anniversary of COVID-19 being present in our community. March 16th, 2021 marks the one year anniversary of Lewis County declaring a state of emergency in response to the COVID-19 pandemic. Since that time, our community has rallied together in an effort to support those directly impacted by the illness; we remain #NaturallyTogether.
As of March 1, 2021, 1783 people in Lewis county have tested positive and we have lost 27 people to the illness. All of us have been touched in some way by COVID-19.
Lewis County would like to recognize all the essential businesses and employees for your continuous support that you provide for the community. As we enter this year with hope, the week of March 15 - 19 we ask that the community come together once again to show your appreciation for those that have kept us safe during this unprecedented time.
COVID-19 Pandemic Memorial Week is a collaborative effort between Lewis County, the business community, and the faith community to bring the community together to honor and remember the past year. We have chosen the color blue and the Forget-Me-Not flower as symbols of recognition. During the week, residents of Lewis County will have opportunities to express their support and gratitude by:


● Join a Virtual Commemorative Service on March 16th at 7:00pm hosted by the Lowville Clergy
● Simply wear blue to demonstrate your appreciation
● Create a visual display by decorating windows, mailboxes, doors, lawns and homes
● Enter a photo contest by submitting photos of your visual display
● SHOP LOCAL. Show your appreciation for local businesses by shopping, eating and enjoying local this week.
● Reach out to our essential workers, friends and neighbors to say thanks, offer support or just say hello.
● Share your stories of community kindness during this unprecedented time.
● Use #NaturallyTogether on Social Media to follow events of the week.


Information will also be available on Linking Lewis County and links on local social media. If you have any questions please call Patricia Fralick at 315-376-5858.