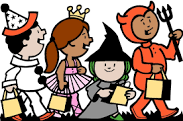 Annual Halloween Parade
C.C.S.
Monday, October 23, 2017
On Tuesday, October 31st, C.C.S. will have its traditional Halloween Parade at 1:30 p.m. The route of the parade will be Mechanic Street, Loud Street, Maple Avenue, Main Street, and back up Mechanic Street. In event of rain, the new gym will be used. The entire community is invited to come and watch.
We are asking parents to please be cautious when choosing children's costumes. Please make sure there are no weapons, sharp objects, blood, or inappropriate messages as part of the costumes.
Thank you for your cooperation.